Product Description
We have a used B-136 "Baby" ultrasonic machine on consignment.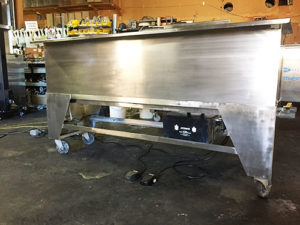 This 1990 model is in good working condition and has a good appearance. Designed for window blind cleaning, the B-136 has two chambers: wash and rinse. Interior dimensions are 72″L x 8″W (each chamber) x 18″D.
The machine can also be used to clean other items such as long industrial parts, small soot damaged contents, golf clubs, light diffusers and more. It comes complete with:
An ultrasonic generator
Built-in transducers
Stainless steel shield
Air compressor
Bubble bar (in rinse tank)
Two easy-step foot pedals
Spigots for easy drainage
Four wheels
This machine new is $17,000.
Asking price is $5,500 (just reduced!).
Please call 215-969-0266 for more details.
$ 5,500
Product Videos
Recommended Accessories
In order to get your job done properly, your contents processing system will require several accessories. The Morantz Super System Upgrade Kit will give you all of the tools you need for fast and effective cleaning.

The Morantz Deionization System turns your standard tap water* into deionized (demineralized) water. A deionized rinse is a must-have for Electronics Cleaning as it does not conduct electricity. For everything else, deionized water is always preferable as it eliminates spotting

…

While your Morantz Ultrasonics Cleaning Systems don't use a lot of chemicals, it's good to know you can measure a precise amount every time you need it.

Cleaning with Ultrasonics is easy, but it's helpful to keep your hands free to speed your work. All it takes is a quick tap from your foot to turn your machine on or off, leaving your hands free to manage the

…

Air bubbles aid in the cleaning process by helping to dislodge large pieces of dirt and debris. Our air compressors provide constant pressure to allow you to continue cleaning with our Bubbler System.

For Window Blind Cleaning (shown with The Baby Ultrasonic Machine). Use the Inspection Rack to prepare your blinds for cleaning and drying. Hang the blind from the top of the rack, open the blind to inspect for dirt and damage.

…

If you find yourself in need to attach, tighten or remove your immersibles, heater or other components, then you need our Immersible Wrench. Made of high-quality steel, our Immersible Wrench will allow you to quickly remove and install your immersible packs

…

The Blow Dry Gun utilizes high speed, heated and compressed air to dry items safely, quickly and effectively. This 4 horsepower industrial dryer can work all day long to dislodge water, even when "hidden" within small and difficult to reach places. A must-have

…

Cleaning industrial, automotive and other parts can be a challenge. Get those parts clean with less hassle with the Morantz Parts Cleaning Upgrade Kit.

When cleaning blinds, it helps to have the right tools for the job. This Blind Cleaners Upgrade Kit has everything you need, not only to get the most out of your Morantz Ultrasonic Blind Cleaning Machine, but to get the

…

Fire Restoration is tough work, so anything that can help process a Fire Restoration job is welcome news. With the Morantz Firesonics Upgrade Kit, you'll have all the tools you need to get through that job as fast as possible (for

…

Get the most out of your Morantz Ultrasonic Cleaning System with this Ultrasonic Cleaners Upgrade Kit. This kit includes everything you need to make cleaning with your Morantz Ultrasonic Cleaning System as fast and as effective as possible (recommended for

…

Our most powerful and popular blind cleaning model, The Baby is the machine that started it all. Easily transported in a van, mini-van or trailer, this system can be brought to your customer's site and fits easily into a standard

…
Related Products
We have a used B-160 "Princess" Ultrasonic Machine on consignment. This system is in very good condition and is as close to "like new" as it gets. Low usage, great upkeep and all the upgrades make this a good buy.

…

We have a used B-136 "Baby" ultrasonic machine on consignment. This 1990 model is in good working condition and has a good appearance. Designed for window blind cleaning, the B-136 has two chambers: wash and rinse. Interior dimensions are 72″L x

…

The SZ Series Tabletop Ultrasonic Cleaners are ideal for cleaning smaller items including  jewelry, eyeglasses, surgical instruments, dental appliances, musical instrument mouthpieces, and small parts. Dependable and durable, the SZ models range in size from 1/2 gallon to 10 gallons

…

This Cousin machine from the Morantz 3-in-1 System (1999) is being sold on consignment. It is in good working condition and has a very good appearance. Ideal for wide and deep items that need detailed cleaning. Interior Dimensions: 52″ L

…

The Z-97 Super System offers a full line cleaning system at an economical price. Designed around Morantz's famous Brother machine, the line utilizes 3 stations: Pre-Wash (Z-97-PW) Ultrasonic Wash (Z-97) Rinse (Z-97-RS) The Z-97 Super System is ideal for cleaning

…

Ideal for giving items a "final rinse" to complete your large and deep cleaning jobs, the SM-200 Rinse Station is a must have addition for your Line Cleaning. Featuring the same electric lift technology of our standard M-115 Mighty One

…

Ideal for giving items a "final rinse" to complete your large and deep cleaning jobs, the Morantz Rinse Station is a must have addition for your Line Cleaning.  Pair this tank with our Deionization System and you now have the

…

The Morantz Pre-Wash is ideal for applications that require removing a top layer of dirt (or other surface contamination) prior to deep cleaning. Commonly used for Contents and Fire Restoration, Electronics and Parts Cleaning, the Z-97-PW is an economical way to enhance

…

The Morantz Pre-Wash is ideal for applications which require removing a top layer of dirt (or other surface contamination) prior to deep cleaning. Commonly used for Contents and Fire Restoration, Electronics and Parts Cleaning, the SM-200-PW uses the same tank and electric lift technology of our

…

Versatility at an economy price. This 2-tank system combines the power and portability of The Baby and The Brother. Take these machines on site or use them at your facility. The system shares two, portable immersible transducer packs, one state-of-the-art

…

This 2-tank system combines the power and portability of The Baby and The Mighty One. Take these machines on site or use them at your facility. The system shares two (2) portable immersible transducer packs, one (1) state-of-the-art ultrasonic generator and one (1)

…

The Morantz SM-200 Super System is the industry's premium contents cleaning and parts washing in-line system. Includes the following 3 stations: Super Mighty One Pre-Wash Station (SM-200-PW) The Super Mighty One (SM-200) Super Mighty One Rinse Station (SM-200-RS) These specially

…

The M-115 Super System is Morantz's most popular contents and parts cleaning model. It includes 3 stations: Mighty One Pre-Wash (M-115-PW) Mighty One Ultrasonic Wash (M-115) Mighty One Rinse (M-115-RS) Each station is designed to process 8 content baskets at

…

The centerpiece of the SM-200 Super System, this all-in-one unit is an extremely powerful and versatile Ultrasonic cleaning solution. Designed for Contents Restoration and Large Parts Cleaning, the Super Mighty One features an electric lift and dual work shelves that make it easier

…

Designed for Contents Cleaning and Parts Cleaning, this powerful Ultrasonic machine is the Standard for heavy lifting jobs of all kinds. Featuring an electric lift, the Mighty One will help your team clean large, bulky items (such as machine parts

…

Powerful, portable and economical, the Z-97 Brother was built to accommodate larger, bulkier items. Clean electronics such as computer monitors and towers, electrical appliances, industrial parts, smoke damaged contents, musical instruments, and more. Great as a stand-alone machine, or as

…

This portable ultrasonic system is the perfect solution for on-site fire and water damage restoration, mold remediation, musical instrument cleaning, and parts cleaning. Also great for cleaning smaller electronics and electrical appliances, dishes, silverware, knick-knacks, toys, antiques, golf clubs and

…

This extra-long tank can handle it all. Clean large, oversized blinds, light diffusers, filters, IV poles, area carpets and more. While designed as a stationary machine, The Princess includes 4 casters for mobility and comes with transferable immersible packs. Requires

…

Our most powerful and popular blind cleaning model, The Baby is the machine that started it all. Easily transported in a van, mini-van or trailer, this system can be brought to your customer's site and fits easily into a standard

…

This all-in-one unit is the largest, most powerful Ultrasonic cleaning machine in the Morantz Ultrasonic family. Its vast size and electric lift make this machine a truly diverse system for all types of cleaning including Parts Cleaning, Fire Restoration, Water

…

The Morantz Pre-Wash is ideal for applications which require removing a top layer of dirt (or other surface contamination) prior to deep cleaning. Commonly used for Contents and Fire Restoration, Electronics and Parts Cleaning, the M-115-PW uses the same tank and electric lift technology of our standard

…

Ideal for rinsing items after Ultrasonic cleaning, the Morantz Rinse Station is perfect to finish off all sorts of cleaning jobs. Utilizing the same electric lift technology of our standard M-115 (Mighty One), the lift makes it safe and easy for the

…

The Drye-Rite Convection Air Drying Cabinet is a powerful and fast convection air dryer.  It's the fastest dryer on the market for contents, and holds the the largest capacity.  This means you can dry 12 baskets of contents within minutes, or

…

The Drye-Rite-XL is a wonder of engineering; a portable Convection Air Drying and Ozone Room! Equipped with panels that can be adjusted to the size you need, the Drye-Rite-XL can be transported to and setup on-site for large loss/volume drying. For smaller drying jobs, the panels

…