SM-200-XL Super Mighty One XL
SM-200-XL
The Ultimate in Diversified Cleaning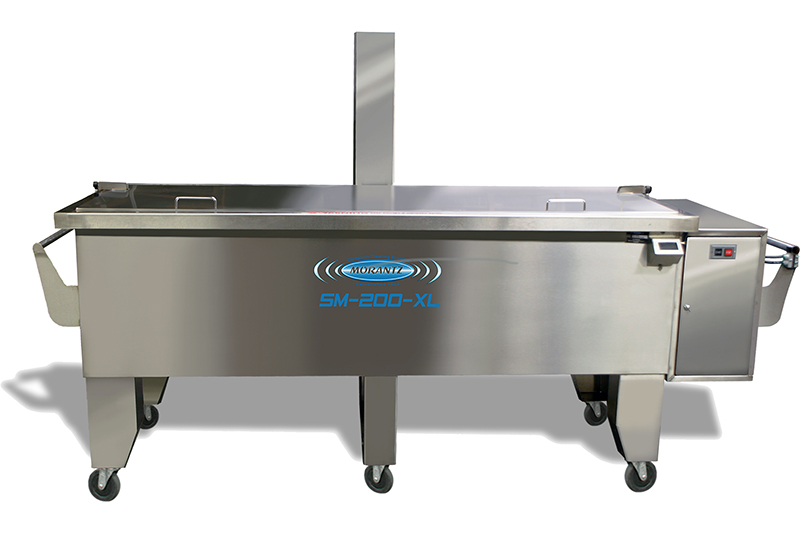 This all-in-one unit is the largest, most powerful Ultrasonic cleaning machine in the Morantz Ultrasonic family. Its vast size and electric lift make this machine a truly diverse system for all types of cleaning including Parts Cleaning, Fire Restoration, Water Damage Restoration, Mold Remediation, Medical Infection Control, Window Blind Cleaning, and practically any other item that can fit into this large tank.
Twin Prowave True Digital Generators™ with Intensity Control Knobs (4000 Watts/8000 Peak Watts)
4 Immersible Transducer Packs
Electric Lift with Wheels and Foot Pedal Control
Built-in Thermostatically Controlled Heater with Indicator Light
Digital Temperature Display/Readout Box
Large 2″ Spigot for Easy Draining
Stainless Steel Generator Cabinet (with 2 Shelves)
Enclosure Gate
Welded Handles
Five Heavy-Duty 5″ Casters (with 2 Brakes)
Instructional Video and Manual
Free, Unlimited, Hands-on Training at our Facilities in Philadelphia
Free Ongoing Support
*This machine requires three (3) 220v/1ph/20 amp and one (1) 110v/1ph/15 amp service.
Parts Cleaning
Contents Restoration
Medical Cleaning and Infection Control
Electronics Cleaning
Parts Cleaning
Janitorial & Maintenance
Window Blind and Curtain Cleaning
And more…
85"L x 29"W x 29"D
2.2m L x .69m W x .69mD
109" L (with Cabinet) x 32" W x 41" H (73.5" H with Lift)
2.8m L (with Cabinet) x .81m W x 1m H (1.9m H with Lift)
200
757
Call for Pricing 215.969.0266