Business Opportunities

If there's one thing that being in business for over 85 years has taught us at Morantz is that Opportunity Knows No Limits!
That's the way it was when we built our first Ultrasonic Cleaning system over 35 years ago. We saw an opportunity, cleaning dirty window blinds, and figured out a new way to clean them; by using Ultrasonics. It took us a while, but through trial and error we figured out the most effective ways to clean every type of window blind on the market, then we taught our customers how to do it too. Then we applied the same idea to other objects and applications.
Like a chef experimenting with different ingredients to create a new, exciting meal, we experimented with cleaning different items. You wouldn't believe some of the things we experimented on, but we discovered something amazing; that almost anything that can get wet (and even some things we thought couldn't get wet) can be cleaned faster, better and more efficiently with Ultrasonics than ANY other process.
Your Opportunity (Is Cleaning your Current Business?)
If cleaning is your current business and you aren't using Ultrasonics, then you are losing money!
"Ultrasonics saves you time, and time is money."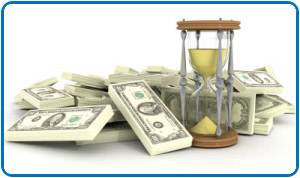 How Ultrasonics saves you money is very easy to understand. In the cleaning business, labor is one of your largest costs. Since cleaning with Ultrasonics is much faster and than any other process, it takes far less time to clean with Ultrasonics than when using any other method. As a result, Ultrasonics allows you to better control costs by dramatically reducing the amount of time it takes for you and your team to complete a job.
When you control costs, you're increasing net revenues!
"Ultrasonics makes customers happy."
Not only is Ultrasonic cleaning fast, it's more effective than any other process. As a result, the items you return to your customers will be clean inside and out. Your customers will notice and will not only want to hire you again; they will be very likely to recommend you to their friends, family and associates.
The Necessity of Diversifying (Adding Cleaning to Your Business?)
In today's challenging economy, it's critical to diversify and create as many income streams as possible. Ultrasonics lets you do this. No other technology can clean everything from window blinds to computers to engine parts to musical instruments and medical equipment, and all in the same day. This means that with Morantz Ultrasonics, you can start with a basic system and expand your service offerings as your business grows. Additionally, since cleaning with Ultrasonics is so efficient, startup and operational costs are low and your time commitment is drastically reduced.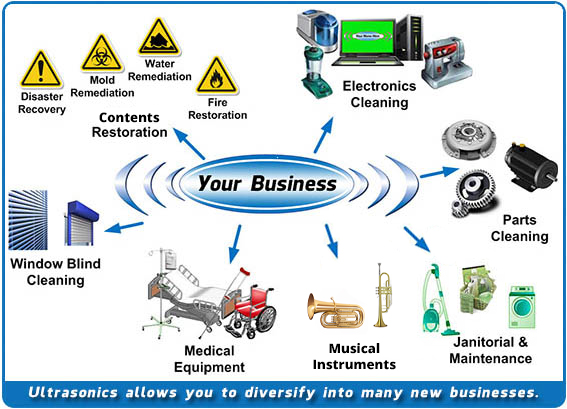 For more information, please submit the Request Information form on this page or call us at 215.969.0266.
Choosing an Application
With so many applications for Ultrasonics, we know that it can be difficult to know where to start. If you're not sure what industry or vertical to focus on, we can help. With over 35 years experience helping our customers start, build, maintain, and grow profitable cleaning businesses, we can help you find the industry, vertical or niche that's right for you. And it doesn't end there.
As a Morantz Ultrasonic Systems owner, you benefit from not only our experience, but the experience of our owners. This is what we call the Ultrasonic Virtuous Circle.
The Ultrasonic Virtuous Circle is a system that allows you to benefit from our experience and network of satisfied customers. It's very simple, as a Morantz Ultrasonic System Owner you can:
Learn from Experience.
Experience More Success.
Make Customers Happy.
The following is a list of applications where owners of Morantz Ultrasonic Systems have realized amazing success. These categories are by no means the only applications for Ultrasonics, but for many of our owners, these applications are always in incredible demand. For each application, please click on the appropriate button.
But we won't stop there. We believe that it's only through your success that we realize our success. That's why we offer FREE Training for all of our Ultrasonic Cleaning customers.
One Final Note;
If you have a specific industry in mind or you're not sure about the business potential of a new one, use the form on this page or give us a call at 215.969.0266. We would be thrilled to hear from you.