Custom Cleaning
One Size Does Not Always Fit All
Morantz manufactures a wide variety of models of ultrasonic cleaning machines for all types of items. From time to time, a unique item is presented to clean for which there is no existing Morantz machine appropriate for the job.  This is the time to explore custom ultrasonic equipment. Morantz will work with you to test clean items and design custom equipment based on your needs. A machine can be built for specific size requirements, materials that items are made from, the dirt/soiling involved, operator safety and more.  We welcome the opportunity to help our customers become highly productive.
Complete Customization
Custom work often means starting from scratch and designing an entirely new model. One customer came to us with a need to clean extra long, extra heavy parts that were highly detailed. They also required that multiple parts be cleaned in each cycle. We were asked if we could we build a machine to suit their needs? We answered "Yes we can", and we did!  Check out this 16 foot long machine below.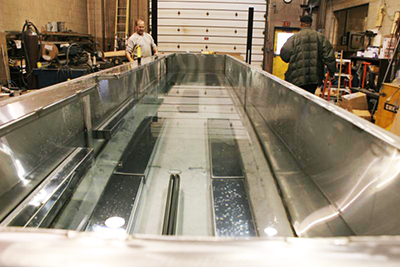 In order to simplify operations, we also incorporated a Touch Screen PLC controller. All of the machine's functions were easily accessed by a touch of a button.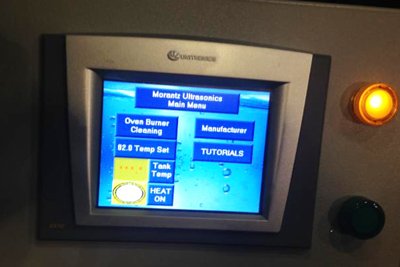 Another customer had worked previously with ultrasonics, but their set up was very makeshift and not effective or efficient. They knew what worked for them, and what didn't.  From there, we did some testing, put together their wish list of features and got to work.  The result was a powerful machine with all the features they needed and wanted to be successful.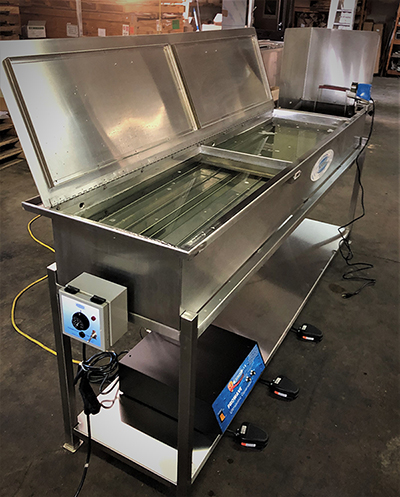 Partial Customization
Sometimes our task is as simple as re-working one of our existing models. For example, a restoration company that ordered a Z-97 "Brother" (as shown below) wanted to use their machine for promotional purposes. Specifically, their intention was to clean multiple sets of golf clubs for industry tournaments. The answer; a removable stainless steel dividing wall insert and custom immersible shield.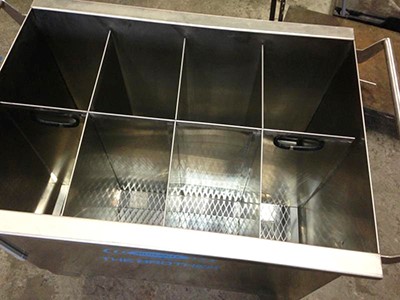 Another customer loved the size and power of the Morantz SM-200, but also wanted the capability and features to clean window blinds and curtains. No problem! We added an inspection rack and front flip-out work table to accommodate these needs.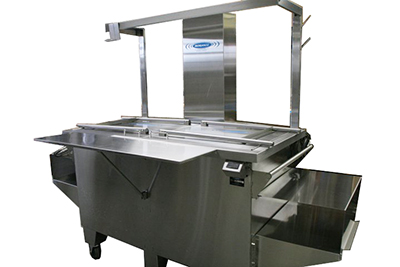 Tell us your cleaning needs
If you want to learn more about how Morantz Ultrasonics may be able to help you with your specific cleaning needs, please fill out the form to the right and provide us with detailed information about what you are looking for. You can also call us at (215) 969-0266.