About Us
Celebrating 85+ Years of Success
"At Morantz, we believe that it's only through your success
that we realize our success."
Morantz Ultrasonics specializes in building quality Ultrasonic Cleaning Systems that allow you to clean faster, more effectively and more efficiently than any other method. Morantz Ultrasonics are easy to use, safe for the environment and will allow you to quickly maximize your profit potential. With more than 85 years serving our customers (and almost 40 years experience developing Ultrasonics), Morantz Ultrasonics is the world leader in building Ultrasonic Cleaning Systems for the Window Blind Cleaning, Medical Cleaning, Electronics Cleaning, Parts Cleaning, Janitorial and Facilities Maintenance, Contents Restoration (Fire and Water Restoration, Mold Remediation and Disaster Recovery) and Musical Instrument Cleaning industries. Now, with our third generation in place, Morantz Ultrasonics is moving boldly into the future. With new systems and services in development, we look forward to serving our customers for another 85 years (at least).
To learn more about our history, please continue reading.
A Wonderful History
For over 45 years, long before Stan Morantz invented his first Ultrasonic Cleaning System, Herb and Evelyn Morantz ran a small drapery manufacturing shop in Philadelphia, Pennsylvania. Business was good and by the early 1960s, Herb and Evelyn were making draperies for many of Philadelphia's top interior designers. By the late 60s, window blinds were becoming popular and Herb began manufacturing them as well. Unfortunately, there was a problem. People were having trouble cleaning their blinds. In order to satisfy his customers, Herb added blind cleaning to his services and quickly discovered what his customers already knew; cleaning window blinds by hand was difficult and time consuming.
"There's got to be a Better Way"
During this time, Herb and Evelyn's son Stan joined the business. Stan was responsible for screen-printing custom designs on the draperies (something that was fashionable at the time). As business grew, Stan noticed that Herb and Evelyn were having trouble keeping up with orders because they were still making drapes the way they had when they first started their business decades before. Frustrated by watching his parents working so hard, Stan declared, "There's got to be a better way." Together, Stan and Herb took a hard look at how they were running their business and started to create tools that would make work easier.
The Morantz Pleater Gauge™ Changed Everything
Their first invention, The Morantz Pleater Gauge™, literally revolutionized the industry by allowing people to pleat a drape in less than half the time of traditional methods. Inspired by their success with the The Pleater Gauge, Stan continued to innovate, ultimately earning an amazing 52 patents for drapery workroom tools and techniques. Ultimately, companies from JC Penny and Sears to small "mom and pop" shops throughout the world began using Stan and Herb's tools, but there was still a problem; their window blind customers were still asking them how to clean their blinds.
The "L'il Baby" Changes Everything, Again!
Once again, Stan took a hard look at the business and realized that there was indeed a massive opportunity in cleaning window blinds; if only it could be done more efficiently. So Stan began experimenting, ultimately trying several dozen different methods including using the family dishwasher! Nothing worked. Then, Stan remembered something he had heard while serving in the Army during the Cuban Missile Crisis. Stan never told anyone what it was ("it's Top Secret," he said), but it involved something called "ultrasonics." Within days, Stan designed the prototype for what ultimately became the world's first Ultrasonic Window Blind Cleaning machine, The L'il Baby™.
Ultrasonics; Today and into the Future – Meet the Morantz Team

Since that day almost 40 years ago, Morantz Ultrasonics has been the leader in the development of Ultrasonic cleaning technology and Morantz Ultrasonic Cleaning Systems are being utilized throughout the world. Today, Morantz Ultrasonic Cleaning Systems are being used to clean everything from window blinds, golf clubs, light diffusers, wheelchairs, computers, electronics, to soot and smoke damaged items (with our Firesonics™ Systems) and much, much more.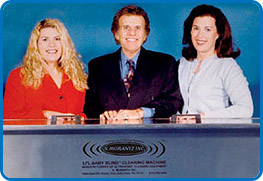 Now celebrating over 85 years in business, Stan's daughters, Lisa and Heather, are leading Morantz Ultrasonics into the twenty-first century. With Lisa now President of Morantz Ultrasonics and a growing international distribution network, the Morantz family continues to serve their customers by creating ground breaking products and providing world class customer service. At Morantz, our future is brighter than ever and we look forward to welcoming you to our family of clients.
Lisa Morantz, Esq. – President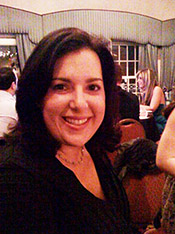 Connect with Lisa on LinkedIn
Lisa is the 3rd generation owner and operator of Morantz Inc. From her 15 years serving as Vice President to stuffing and licking envelopes for marketing when she was a child, she has literally worked in every capacity of Morantz's business. She was even our first advertising model (demonstrating one of our drapery workroom products as a baby – see photo below).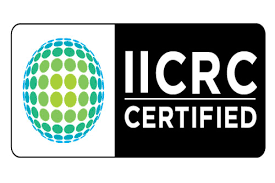 Lisa continues to position Morantz Inc. as a leader in the Ultrasonics Industry.  With her unique skill set as a seasoned business executive, IICRC Certified Fire Restoration Technician and as a licensed attorney, Lisa has grown Morantz Inc. into a respected international manufacturer of ultrasonic machines in a wide variety of industries.  She has done this while promoting the company's corporate culture dedicated to family-style, personalized attention for Morantz clients and employees.  It's a winning combination learned from her grandfather, Herbert Morantz and father, Stan Morantz (Founders) that uniquely positions Lisa as a reputable leader and business partner.
Heather Morantz
Heather Morantz is also a 3rd generation member of the Morantz team.  With 20+ years of experience with the company, the Controller and the person who oversees Morantz's window blind cleaning service, Heather is always ready to help our customers. Heather earned a Bachelor's degree in teaching, and brings her knowledge of the classroom to Morantz's training sessions.
To learn more about Morantz Ultrasonics, call us at 215.969.0266.