Medical Cleaning & Infection Control
Hospitals and other medical facilities contain a wide variety of tools and equipment that must be maintained in a completely sanitary or sterile condition. This is a critically important factor not only for patient wellness and recovery, but for the safety of both the patients and staff. While maintaining such environments has always been challenging, incomplete or improper cleaning can result in residual contamination leaving patients and staff exposed to viruses, bacteria, and other pathogens (such as MRSA). In recent years this has become a critical healthcare issue.
Morantz Ultrasonic Cleaning Systems have been used successfully in the cleaning and maintaining of medical facilities. With Morantz Ultrasonics, equipment can be cleaned quickly and thoroughly. Additionally, our systems have been proven to eradicate the most resistant bacteria including Escherichia coli, Enterococcus, H1N1, MRSA and C-diff.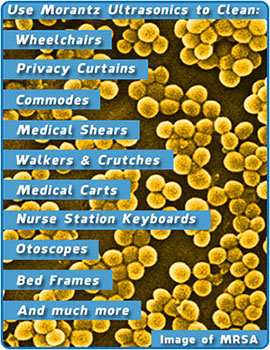 Proven Results
To prove the effectiveness of our Ultrasonic Machines to sanitize medical equipment, independent laboratory studies were conducted to determine if Morantz Ultrasonic Cleaning Systems could successfully sanitize equipment that comes into contact with dangerous types of bacteria and human waste.
The equipment used for testing are those commonly found in healthcare facilities. This equipment was intentionally contaminated with Escherichia coli, Enterococcus and raw sewage containing MRSA (Methicillin-Resistant Staphyloccocus Aureus).
Conclusions
In every case of testing, the Morantz Ultrasonic Cleaning Systems and process proved to be extremely effective at reducing the bacterial level of contamination for a wide variety of objects. For both Enterococcus and Escherichia coli, lab results revealed a 100% reduction for every non-porous item tested, a 97% reduction in Enterococcus and a 100% reduction of E. coli for porous items such a microfiber cleaning towel.
MRSA bacteria were completely eliminated from all contaminated surfaces. The results also conclusively proved that Morantz Ultrasonic Cleaning Equipment can be used to clean items with substantial bacterial contamination (and this was accomplished without having to frequently change the water in the cleaning tank). Special waste disposal requirements were also not necessary for the wash water after items with bacterial contamination had been cleaned.
Summary of Laboratory Results