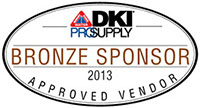 Morantz Ultrasonics is proud to announce that we have renewed our Approved Vendor Status with DKI for 2013.  DKI members will continue to enjoy discounted pricing from Morantz on all equipment and supplies.
To get the best pricing, or if you have any questions, please call us at 215.969.0266, or submit the form to the right.
Here's the Official Press Release
Morantz Ultrasonics Becomes Bronze Sponsor of DKI Procurement Cooperative Buying Program
(Wood Dale, IL) – DKI Procurement, DKI's cooperative buying program exclusively available to DKI Members and DIAMOND Service Providers, announced today that Morantz Ultrasonics has just renewed its vendor status as a Bronze sponsor of the program.
Morantz Ultrasonics manufactures Ultrasonic Cleaning Systems for fire, water and mold contents cleaning. Utilizing state-of-the-art digital sound wave technology, items such as collectibles, stuffed animals, kitchen appliances, electronics, window blinds and much more can be cleaned easily within mere seconds. Additionally, customers receive free lifetime training with purchase of equipment. Since 1935, all products have been made in the USA by Morantz.
DKI Procurement makes it easy for DKI Members and DIAMOND Service Providers to earn rebates and discounts on purchases they are already making for their business. As a Bronze Sponsor of DKI Procurement, Morantz Ultrasonics will have access to exclusive marketing opportunities and events available only to sponsors of DKI Procurement.
"We are very excited that Morantz has chosen to participate in the DKI Procurement Program as a Bronze Sponsor. Adding Ultrasonic Cleaning Systems to the current catalog of products and services available to DKI Members and DIAMOND Service Providers increases the value of the offerings as well as provides Morantz Ultrasonics with an additional customer base," said DKI president, Dale Sailer.
##
About DKI Procurement 
DKI Procurement, a subsidiary of DKI Holdings LLC, is a program designed to meet the purchasing needs of contractors within the DKI organization. DKI Procurement and its affiliate companies provide sophisticated property loss management services to insurance companies, property managers, and risk management professionals, along with training and education programs, cutting-edge technology and other value-added services to the specialty contractor market. DKI is available 24 hours a day, 365 days a year. For more information about DKI, click here or call (888) 502-4795.