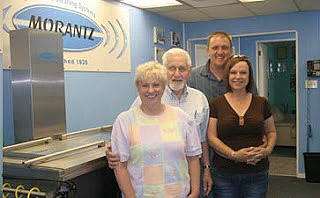 Today we welcome new clients to our family of Ultrasonic Cleaners. The team from Clean Blinds Now, David Morson, along with his fiancée, Cindy, his father Lamar and Lamar's wife Hannah all completed 2 days of Basic Training at our Philadelphia headquarters and are headed back home to take delivery of their new 3-in-1 system.
Training is among my very favorite activities at Morantz Ultrasonics. While I do the majority of the teaching during training, I also make sure I spend time at the beginning of each session doing plenty of listening. This is my way of knowing what I really need to teach my clients to position them best for success. Believe me, it's not the same for everyone. I've never approached our training as a set, static class. I individualize each training session for the needs of that client. This is the reason we conduct our basic training classes one on one and not in a group, classroom style.
For example, Dave and his family are a new, start-up business. They are planning to diversify into many different areas of ultrasonic cleaning including window blind cleaning, fire restoration and parts cleaning. To teach them everything they needed to know, I set aside two days. Beyond the basic know-how of the machine and cleaning techniques, we spent time talking about the family's goals and expectations for the business. This helps me to make recommendations on things as diversified as marketing, pricing, and even the legal structure of the company (I am a lawyer, so I always ask about the nitty, gritty details to make sure everything is being thought through). However, if for example, I was training an existing fire restoration company, I would not approach the training the same way. Their needs are very different, as is each client's needs.
I truly believe that training and support is the key to success in this business, and while each client has different needs, we are available for all of them. I told David before he left that he should feel free to call me and ask questions often….especially in the beginning when he is just getting started. He admitted that he is a bit anxious about everything but feels better knowing he can reach us should he need to.
Best wishes to the Morson family on their new venture!
Note: Shortly after this post, here is the note we received from the Morson's:
Dear Stan, Lisa, Heather, and the entire Morantz Team.

We wanted to thank you for your hospitality, generosity, and wonderful experience we had coming to your operation. We look forward to embarking on a wonderful journey in the world of ultrasonic cleaning. The professionalism of each of your employees was unmatched. It was truly a pleasure dealing with each of them.

We are very excited to get started and look forward to many future dealings with your company.

Sincerely,
David, LaMar, and Hannah Morson
Clean Blinds Now