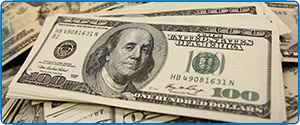 If you're curious to see what other companies charge for their Window Blind Cleaning Services, take a look at windowcleaningresource.com where someone recently asked, "I'm thinking about adding blind cleaning to my list of services. Can anyone help on standard pricing for horizontal blinds?"
Our answer is that while cleaning blinds with Ultrasonics only takes about 30 seconds with an Ultrasonic Cleaner, our clients typically charge anywhere from $15 to $150 per blind. While this pricing depends on the type of blind being cleaned, with Ultrasonics you can clean any type of window blind including fabric, wood, aluminum, plastic, vinyl, etc. Click on the following links to learn more about Window Blind Cleaning and Making Money with Ultrasonics.
Here's what others had to say:
"Faux wood blind the size of a regular window I'll charge $18-20"
Larry Kreusel, San Antonio, TX.
"I don't do them but the guy I sub out to charges $15-$25 and he has an ultrasonic machine."
Phil Hinkle, Nampa, ID.
"On the Island you can pretty much set the price at whatever you want."
Chris Cartwright, North NJ.
"I'm at $10. Only takes about 5 minutes."
Brennon Williams, New Albany, OH.
"I kid you not, we charge $30-$50 per BLIND (real wood that can't go in water) for slat cleaning & wipe down. We also clean the head rails, strings, tassles, wands, foot rails, etc… in our ultrasonic  cleaner.  Clients are super impressed; it bills out amazingly and referrals are out of this world."
Joshua Shelburne, Denver, CO.
"$30 to $40 bucks a blind! Man, if I can get that kind of money cleaning blind Im going to change my name to Simply Blinds!!"
DeJay Brock, Louisville, KY.
To learn more, or if you have any questions about pricing, please call us at 215.969.0266, or submit the form to the right.
We look forward to hearing from you.