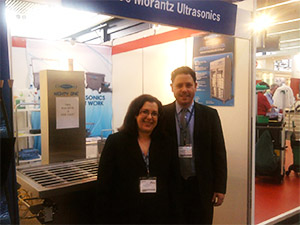 Morantz Ultrasonics journeys to Amsterdam bi-annually to participate in the world's largest cleaning supply exhibition, Interclean. This year, up until the day we had planned to leave, we weren't sure we were going to make it. The recent eruption of the Eyjafjallajokull Volcano in Iceland, that had shut down much of the air traffic across Europe, threated to prevent our trip and possibly, from the show taking place. Luckily there was a break in the ash cloud and we were able to take off without issue.
We had a great time meeting people in our industry from all over the world and showing them the myriad of benefits derived from Ultrasonic Cleaning. Here is a list of the countries we met people from: (Note: of course, the U.S.A. should be on this list too).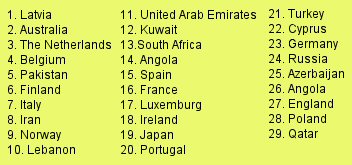 Even better, being at the tradeshow afforded us the opportunity to see many of our clients and to catch up with them. It's always exciting for me to learn more about their businesses and how they are using their Ultrasonic Machines.
Amelia from Portugal let me know that she is using the machine primarily to clean parts for two major shipyards, and also for computer cleaning. She admitted that starting out 6 years ago trying to convince her clients to clean their computers with sound waves was not without its challenges. Now, she claims confidently, this is a niche market that is an in-demand service.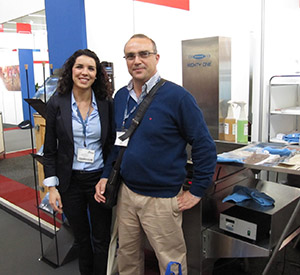 Sven from the Netherlands let us know that the blind cleaning machine he purchased from us 4 years ago paid for itself right away, and continues to be a revenue generator. While his company has cleaned many blinds in the machine, the entire staff came back to learn a bit more about how they can better market the ultrasonic cleaning service, and how they can diversify into other services such as contents restoration, parts cleaning and more.
We also were happy to see Adriana and her father, Gabriel, from the Canary Islands who have our SM-200 (Super Mighty One) system.
Neal and I, in an effort to not have to repack the M-115 (Mighty One) machine that we brought to the show, decided to put it up for sale. Sure enough, one of the fire restoration companies we had met two years previously at Interclean, purchased the machine. Below is the lucky new owner, Noel from Clean and Construct in Belgium. Before taking the machine back with him, he brought a few items to try out. Here you seem him pre-treating a greasy part that cleaned up beautifully.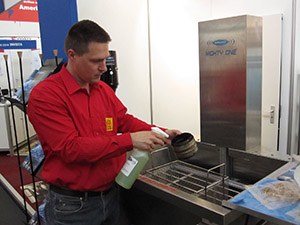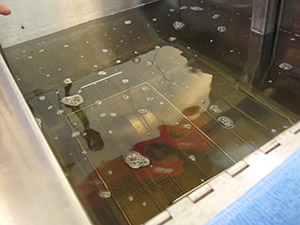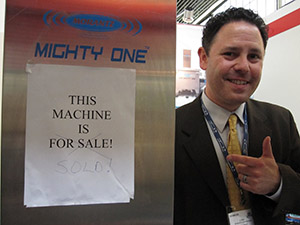 When not at the exhibition, we spent hours walking around, experiencing this vibrant city.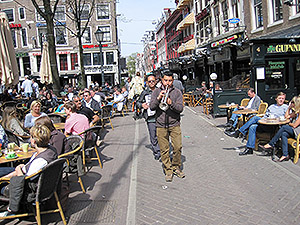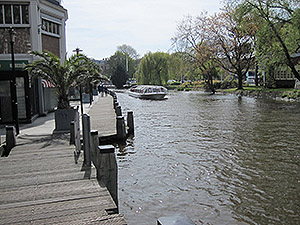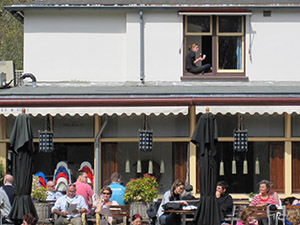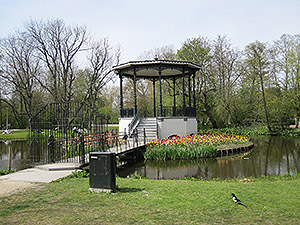 The beautiful architecture looks much the same as it did in the 1600's.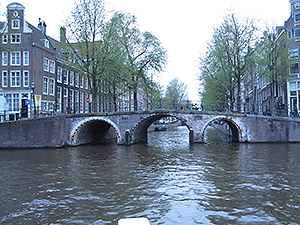 On the last evening of the show, the city wide celebration of Queen's Day began. It's a national holiday in honor of the Queen's birthday (although not the current Queen Beatrice, but her mother. The entire city became a sea of orange shirts, wigs, boas, balloons and more. I was told that Queen's Day is the only day anyone can sell anything without a permit, so in essence the entire city is one big flea market. Maybe next time I'll bring more machines to sell on the street at Queen's Day (LOL!)
Overall, a great trip! We are looking forward to Interclean 2012.