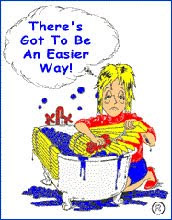 For many of us, social media has become a standard in our lives. With the proliferation of Facebook, Twitter and other networks, I find myself on the internet more than ever discussing all types of topics with people from all over the world. But who would have ever thought that WINDOW BLIND CLEANING would have been one of those topics? Don't take my word for it. Check out Facebook and Twitter where I found these messages:
"I hate cleaning wood blinds!!!, why did I have to get them everywhere in my house."
"You could take em off & throw em in a tub…or buy a swiffer…I hate dusting blinds UGH!"
"Decided that cleaning window blind slats is right up there with silver polish; never gets done either."
"Took down blind to clean it…took hours!"
"Cleaning a mini blind? Don't bother. Its too hard."
Recently I came across a Blog which threw out the simple question:
"What's The Best and Easiest Way to Clean Blinds?"
Throughout the day, 21 people replied. Most people responded with their homemade bath tub type cleaning and dusting techniques. Interestingly, many of those people admitted that they were frustrated because the results of those methods were not that good. All this frustration leads to people absolutely hating the job of cleaning blinds!
Still not convinced? How about this response (you can really feel the frustration here):
"When asked how to clean; Yes there is a great way to take care of this problem! Make sure to read all the way through…even though this is easy, it is kind of detailed instructions. What you do: Mix a quart of vinegar, a small box of baking soda, in a bathtub about half to three quarters full of hot hot water. You need a hammer for this part. Take down all the horizontal mini-blinds in your home and hammer them to one inch pieces and set the pile on fire. Have the marshmellows handy! While your fire is getting the coals built up (because you can't rush a great campfire) go online and order some vertical blinds, roman shades, or curtains for the windows in your home, all of which are easy to clean. Next, throw a beach towel over your naked bathroom window. Sprinkle some lavender oil or rose petals in the tub with the vinegar and soda water (which is great for the skin by the way) and celebrate your wise decision with a nice hot soak for your tired, stressed out, marshmellowy body. All this to say, I think mini-blinds are God's way of mocking humans and I have NO idea how to deal with them. (WINK WINK HAHAHAHAHAHAHHHHHHAAAAAAAAAAAAA!)"
Despite all these posts, tweets, etc. The quote that follows is actually my FAVORITE response. It's short and gets to the point:
"Pay to get them clean, that's the easiest."
And many, many people do pay to get their blinds cleaned.
The blog went on to discuss ultrasonic cleaning for blinds and stated:
"There are many benefits of ultrasonic cleaning such as they eliminate pollutants, germs, bacteria and move dust. And the best thing of this method is that you can clean your blinds at reasonable price. Another great advantage is that with the help of this method you can not only clean roller blinds but other types of blinds such as vertical blinds, office blinds, wooden blinds, mini blinds and Venetian blinds can be cleaned perfectly."
At the end of the day, there's an absolutely huge market that has proven itself time and time again to be profitable; and that market is cleaning window blinds with Ultrasonics.