B-136 (The Baby)
B-136
The Original Blind Cleaning Machine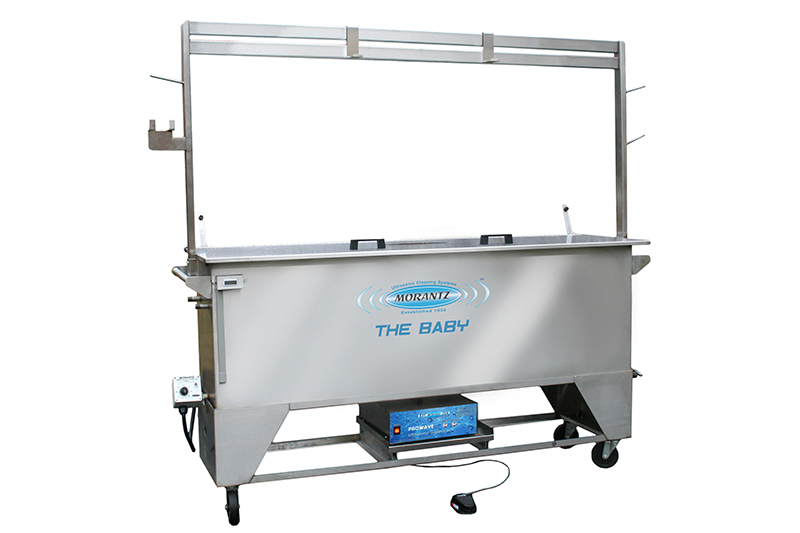 Description
Our most powerful and popular blind cleaning model, The Baby is the machine that started it all. Easily transported in a van, mini-van or trailer, this system can be brought to your customer's site and fits easily into a standard size elevator. Ideal for on or off site cleaning of window blinds of all sizes and types: aluminum, plastic, vinyl, fabric, wood and more. Uniquely sized to allow for diversified cleaning of many other items.
Also cleans Light Diffusers, Filters, Vents and Duct Covers, Ceiling Fan Blades, Crystals from Chandeliers, Artificial Flowers, Area Carpets… and much more!
If you are interested in this machine, see how The Baby operates as part of our modular 2-in-1 Systems (the 2-1S or the 2-1M). If you need a larger capacity, see the B-160 Princess.
Requires two (2) standard 110v circuits to operate (can be converted for countries that require 220/240v).
*Machine pictured with additional accessories that are not standard features. Please call 215.969.0266 for more information.
Prowave™ Generator with Intensity Control (1500 watts/3000 peak watts)
Twin Immersible Transducer Packs with 14-Gauge 316L Non-Magnetic Stainless Steel
Heavy Duty, Non-Magnetic, Stainless Steel Tank
Immersible Shield
Stainless Steel Stand (separates from tank)
Stainless Steel Extended Inspection Rack
Thermostatically Controlled Heater
Generator Drawer
4 Heavy-Duty 5″ Casters (with 2 brakes)
2 Welded Handles
Digital Temperature Display Readout
2 Large Spigots for Easy Draining
Instructional Video and Manual
Free, Unlimited, Hands-on Training at our Facility in Philadelphia
Free Ongoing Support
Window Blind Cleaning:
Wood Blinds
Vinyl Blinds
Venetian Blinds
Vertical Blinds
Silhouettes
Micro Mini Blinds
Mini Blinds
Luminettes
Roller Shades
Pleated Shades
Fabric Blinds
Privacy Curtains
Shades
Shutters
Curtains
Draperies
Each Chamber is 75" L x 8.75" W x 24" D
2m L x .22m W x .61m D
83" L x 23" W x 41" H
(78" H with Inspection Rack)
2.1m L x .58m W x 1m H
(2m with Inspection Rack)
136
515
Call for Pricing 215.969.0266