B-160 (The Princess)
B-160
A Full 8 Feet of Blind Cleaning Power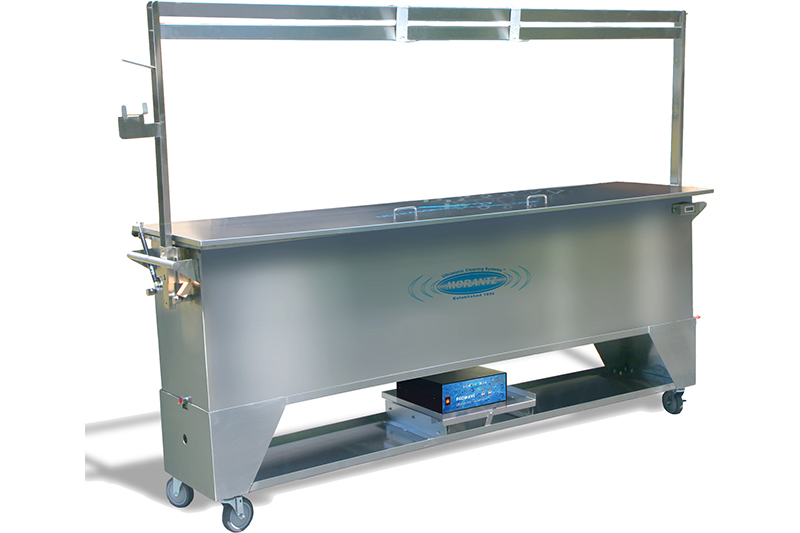 This extra-long tank can handle it all. Clean large, oversized blinds, light diffusers, filters, IV poles, area carpets and more. While designed as a stationary machine, the Princess includes 4 casters for mobility and comes with transferable immersible packs.
Requires two (2) standard 110v circuits to operate (can be converted for countries that require 220/240v).
*Pictured with additional accessories. Please call 215.969.0266 for more information.
Prowave™ Generator with Intensity Control (1500 watts/3000 peak watts)
Twin Immersible Transducer Packs with 14-Gauge 316L Non-Magnetic Stainless Steel
Heavy Duty, Non-Magnetic, Stainless Steel Tank
Immersible Shield
Stainless Steel Stand (separates from tank)
Stainless Steel Extended Inspection Rack
Thermostatically Controlled Heater
Generator Drawer
4 Heavy-Duty 5″ Casters (with 2 brakes)
2 Welded Handles
Digital Temperature Display Readout
2 Large Spigots for Easy Draining
Easy-Step On/Off Foot Pedal
Instructional Video and Manual
Free, Unlimited, Hands-on Training at our Facility in Philadelphia
Free Ongoing Support
Medical Cleaning and Infection Control
Janitorial & Maintenance
Window Blind Cleaning:

Wood Blinds
Vinyl Blinds
Venetian Blinds
Vertical Blinds
Silhouettes
Micro Mini Blinds
Mini Blinds
Luminettes
Roller Shades
Pleated Shades
Fabric Blinds
Privacy Curtains
Shades
Shutters
Curtains
Draperies
96" L x 8.75" W x 24" D (Both Chambers)
2.4m L x .22m W x .61m D
107" L x 17.5" W x 42" H
(78" H with Inspection Rack)
2.7m L x .44m W x 1.06m H
(2m H with Inspection Rack)
160
605
Call for Pricing 215.969.0266