SM-200 Super Mighty One Ultrasonic Wash Machine
SM-200
The Ultimate in Contents Cleaning and Large Parts Cleaning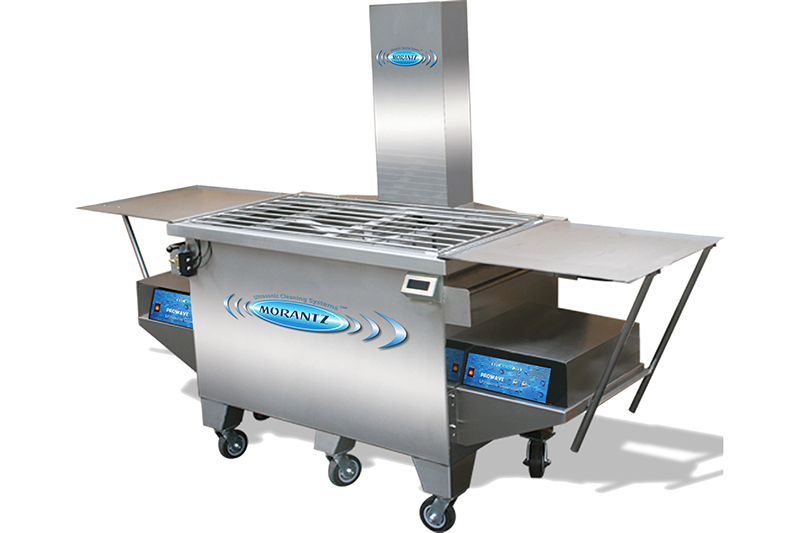 The centerpiece of the SM-200 Super System, this all-in-one unit is an extremely powerful and versatile Ultrasonic cleaning solution. Designed for Contents Restoration and Large Parts Cleaning, the Super Mighty One features an electric lift and dual work shelves that make it easier to move contents between machines and forms a critical component of your line processing.
System Specifications:
Utilizes (3) 220v/20 amp/1ph circuits and (1) 110v/20amp/1ph circuits (adapter will be utilized for countries that require 220/240v)
Does not need special plumbing, only a water source
To see related machines or the complete SM-200 Restoration Super System, click on a link below:
Also available in 115 gallons (435 liters)
To view more photos of the SM-200, our customers and their facilities, visit the Morantz Facebook page.
Heavy Duty, Non-Magnetic, Stainless Steel Tank
2 Prowave™ Ultrasonic Generators with Intensity and Pulse Controls (4000 watts/8000 peak watts)
4 Immersible Transducer Packs with 14-Gauge 316L Non-Magnetic Stainless Steel
Electric Lift with Wheels and Foot Pedal Control
Thermostatically Controlled Heating System
2 Stainless Steel Lids/Work Tables
2 Stainless Steel Generator Shelves (with Splash Covers)
5 Heavy-Duty 5″ Casters (with 2 Brakes)
2 Stainless Steel Welded Handles
Digital Temperature Display Readout
Large 2" Spigot for Easy Draining
Hose Adapter for Easy Fill
Instructional Video and Manual
Free, Unlimited, Hands-on Training at our Facility in Philadelphia
Free Ongoing Support
Contents Restoration
Medical Cleaning and Infection Control
Electronics Cleaning
Parts Cleaning
Musical Instrument Cleaning
And More
55" L x 29" W x 29" D
1.4m L x .75m W x .75m D
110" L (with lids open) x 35.5" W x 72" H (to top of lift)
2.8m L (with lids open) and 1.8m H (to top of lift)
200
757
Call for Pricing 215.969.0266