Musical instrument cleaning
is an in-demand business.  Whether you are an instrument repair technician, an instrument retailer, or a cleaning company, this is a great add-on service.
Many of our ultrasonic machine owners find that although they did not intend to clean musical instruments,  they encounter them during the course of their business.
Cleaning a French Horn in the Morantz Z-56 Ultrasonic Machine
If you are offering soot and smoke damage contents cleaning , it is inevitable that you will need to clean musical instruments in homes and commercial facilities. If you deal with antiques and/or electronics, at some time you will be asked to clean these types of instruments. Most recently, our customers who focus on medical disinfection are being called on to clean instruments for schools that are demanding instrument infection control. For all of these reasons, it is worthwhile exploring this market and learning the proper cleaning techniques.
Tuba cleaning in the Morantz Z-56 Ultrasonic Machine
Here are some general tips for ultrasonic cleaning of musical instruments*:
Brass and other metals:
Most instruments that are brass will need to be inspected to determine if lacquer is already starting to peel off. The older the instrument is, the more likely you will see this.  If it is peeling, temperature and intensity need to be kept low to avoid further damage. For other metal instruments, the temperature of cleaning should usually remain at room temperature.Before cleaning, instruments should be disassembled as much as possible. Remove all slides and buttons. If you find these parts are stuck, go ahead and clean the whole instrument in the machine for a minute, pull it out, and see if you can then loosen these parts enough to disassemble them. Then place all parts back in the machine for another 2-3 minutes. Note that you do not have to remove the felt or leather pads prior to cleaning, but if these need replacing, it's best to go ahead and remove them at this time.
Clean in stages
:
Pre-wash, Ultrasonic Wash, Rinse and Dry
For best results, pre-wash your instruments in a high alkaline cleaning solution such as
Morantz Synergizer
. This will remove oil, dirt and other build up. For the Ultrasonic Wash, you should use an acidic, descaling solution to work on the build up (from saliva) frequently seen on brass instruments. One of our favorite products is Tesch Classic Brass Cleaner. Click through for information and ordering information and view a
video here
on Tesch products.
Clean scale off instruments with the proper cleaning solution
Rinse the instrument with deionized water.
Dry with the Morantz Blow Dry Gun or other appropriate drying tool.
The Morantz Blow Dry Gun used to quickly dry a trombone
To watch a video of ultrasonic cleaning the above pictured trombone, click here.
To watch a video of a cleaned trumpet being dried with the Morantz Blow Dry Gun, 
click here
.
Woodwind and String Instruments: Yes, you can clean these too if you keep the temperature and intensity low and dwell time to seconds. Only an alkaline solution should be used on these instruments (no descaler!). They also need to be dried quickly and completely as soon as they are cleaned. We recommend you use the Morantz Blow Dry Gun.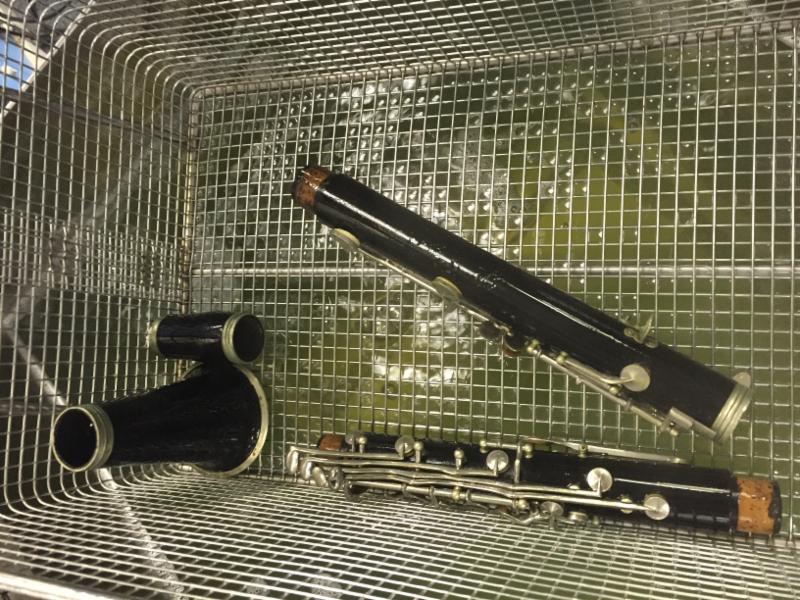 Clarinet cleaned with Ultrasonics
Electric and Electronic Instruments: Yes, you can clean these instruments too, but be sure to use only alkaline solution (no descaler!). As with all types of electronics cleaning, these instruments must be rinsed with deionized water, dried immediately and thoroughly with the Morantz Blow Dry Gun, sprayed with Morantz Miracle Chemical to displace any extra moisture, and placed in the Morantz Drying Cabinet (or equivalent drying room) for a minimum of four hours.
Electric Guitar cleaned with Ultrasonics
For Disinfection: Schools usually clean all of their instruments over the Summer, so it's a great time to start discussing your service with them.  If you have Morantz equipment, you may already know how our equipment has been tested and proven for disinfection. In the field, you can check your cleaning work with an ATP meter. This will let you know if there still anything "live" on the instrument that could be viral, bacterial or otherwise problematic.
ATP Meter displaying test results
Take before and after photos. When you are given an instrument to clean, take a good, high definition photo prior to cleaning. Take another when the job is complete. Not only will your customer appreciate seeing what a great job you did for them, but you can use these for marketing your service. Post on social media, your website, as well as taking them with you on prospective jobs.  Remember that a picture is worth 1000 words.
| | |
| --- | --- |
| | |
| Before Ultrasonic Cleaning | |
| | |
| --- | --- |
| | |
| | After Ultrasonic Cleaning |
*This article does not take the place of training. Training is free of charge to all Morantz customers. If you want to learn more, be sure to contact your Morantz representative at 215-969-0266..