Buongiorno and welcome to Milan, Italy! We bring you all the way around the globe to meet Michele Lazzarotto, owner of Elle Emme custom window treatments and LavareTutto (literally translated from Italian to mean "Wash All").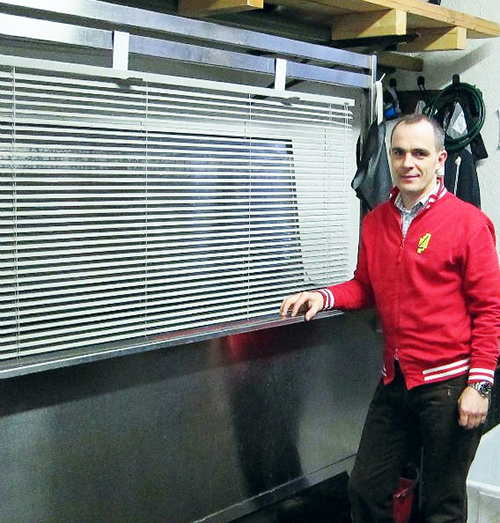 Michele and his family operate several businesses all over Italy that custom manufacture window treatments of all types including blinds and curtains. He has owned and operated his famous shop in Milan for nearly 25 years.
How He Got His Start
Michele first learned about Morantz's blind cleaning equipment in 2008 while researching on the internet ways to properly clean blinds for his clients. Amazed with what he saw, Michele booked his flight to Philadelphia to see the machines in action. He even brought samples of fabrics and blinds to test clean. Excited by the results, Michele placed his order for equipment.
"I could not believe the opportunity I had come across when I saw the Morantz blind cleaning machine working," exclaims Michele. "No one in Italy was offering to clean blinds. The market was wide open and desperately in need of this type of cleaning".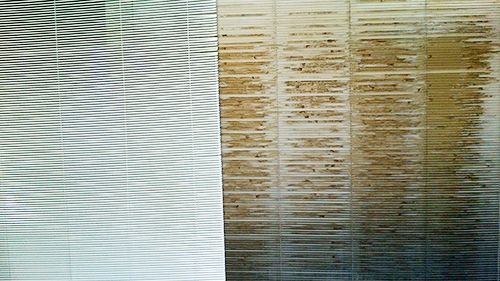 Michele let all of his long-time customers know that he can now service all the window blinds he had sold them. He also created a separate company and website, Lavarre Tutto, to start promoting everything he could clean. Soon he had jobs not only cleaning blinds, but items such as hubcaps, wood stools, metal parts (including engine parts), light diffusers and much more.  Here are some photos he sent us to share with our readers, Prima (Before) and Dopo (After):
A Machine Called "Money!"
Michele lovingly named his blind cleaning machine "Money," and the name has stuck to this day. "It is unbelievable how much money this machine continues to make, so the name fits," Michele said. "My staff is constantly busy with cleaning blinds of all types: Roller shades, mini blinds, vertical blinds and more."
How He "Sells" It
One of the many ways Michele promotes ultrasonic cleaning to his clients is by hooking them on the technology when they visit his shop. Next to his coffee machine proudly sits his Morantz SZ-400 Table-Top System. During offers to clean his clients jewelry and eyeglasses. While cleaning, he explains that this is the same technology that he uses to clean blinds. "It works beautifully and demonstrates my capabilities for cleaning," says Michele.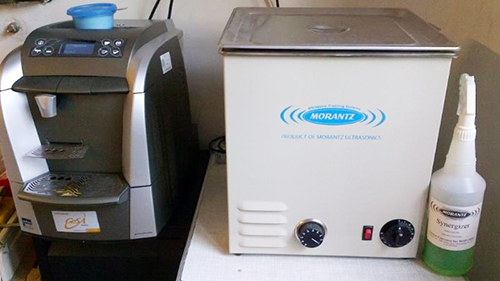 Success, and More Success
Michele was doing so much ultrasonic cleaning that in 2011 he purchased a second machine, the Morantz SM-200-XL. "With the XL machine, I am able to clean a wide variety of items including curtains and even multiple blinds at once. This all-purpose system has really opened up Ultrasonic Cleaning to my company. We have diversified in ways we never dreamed of."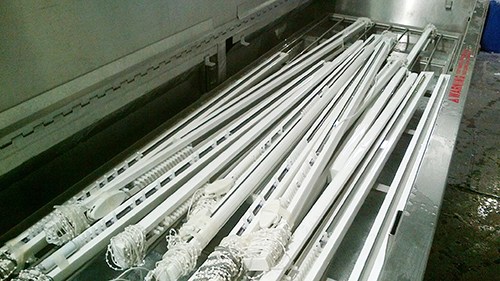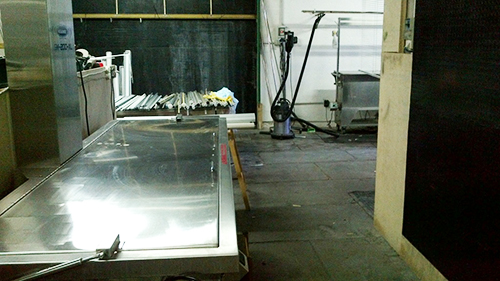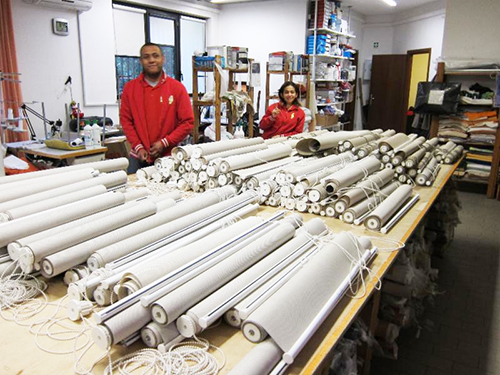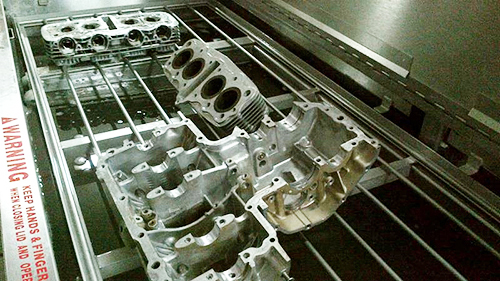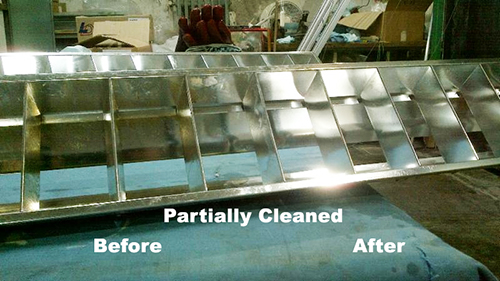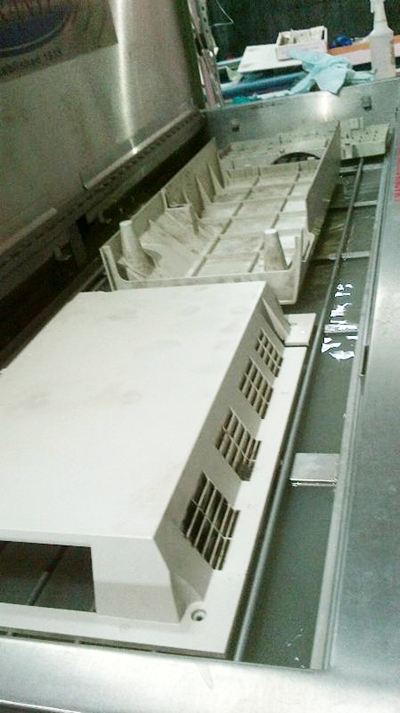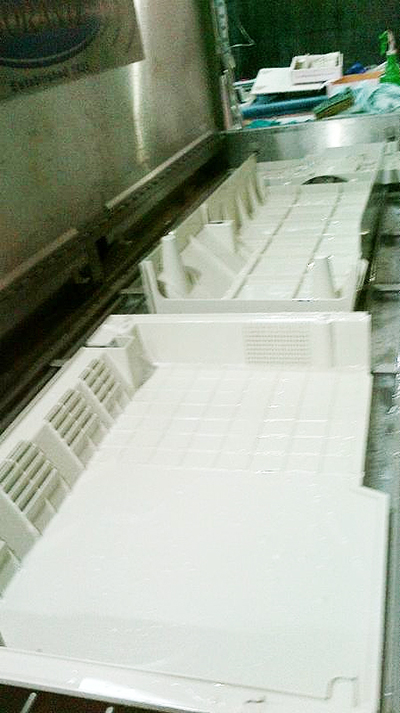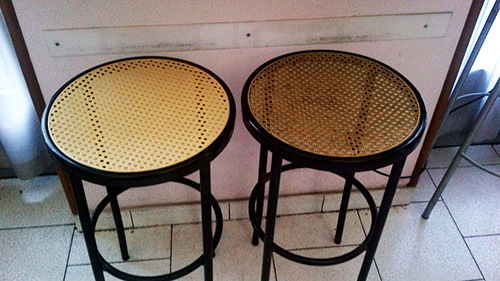 Watch Michele clean those wood stools in his SM-200-XL
Note: The video is in Italian, but the results are Universal!
(click here to watch on YouTube)
Expanding his Business
To procure commercial cleaning jobs, Michele takes his machines to tradeshows in Italy including the largest exhibition for window blinds as well as the largest for general cleaning. In this way, he is constantly in front of decision makers showcasing his company's technology and capabilities. "When I show potential clients how Morantz Ultrasonics works, they can't believe what they are seeing  I create a lot of excitement at these trade fairs, and have taken on many large commercial jobs as a result of these exhibitions."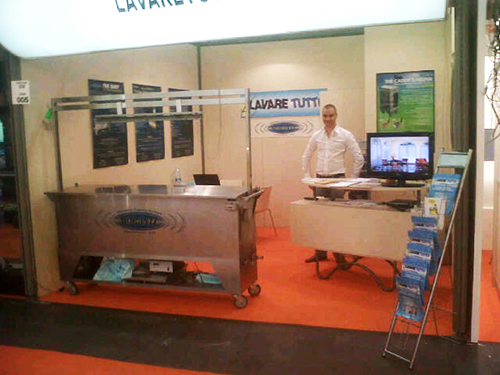 Michele recently completed a large commercial blind cleaning job for one of the many buildings on the campus of ENI Petrol Company. They were so pleased with the outcome that they have now hired Michele's company to clean another 5000 blinds this Spring!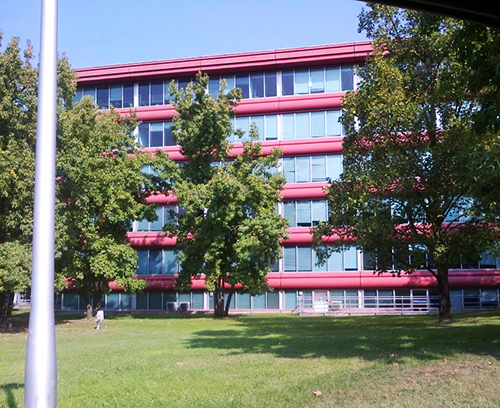 "I Get Calls Every Day"
Michele tells us that he is constantly receiving calls for his service. "I get calls everyday," He says, and with the economy in a major slump in Italy, and with local banks not loaning money, he is glad he invested in the equipment. "Small businesses are closing everywhere in Italy. Companies like mine who manufacture and sells blinds are very slow, so they're looking to maintain what they own," He said. "The timing could not be better for me to offer this service for blinds and other items. Ultrasonic cleaning is not only keeping my doors open for business, it's growing my business."
The Success Keeps Coming
Michele has sent us even more photos including those for the job above. You can see them on our Facebook Page. All of our best wishes for continued success to Michele Lazzarotto and the entire Elle Emme and Lavare Tutto team.
Keep cleaning up in Italy!
Ciao!