Z-97 Rinse Station
Z-97-RS
Final Rinse with optional deionized water filtration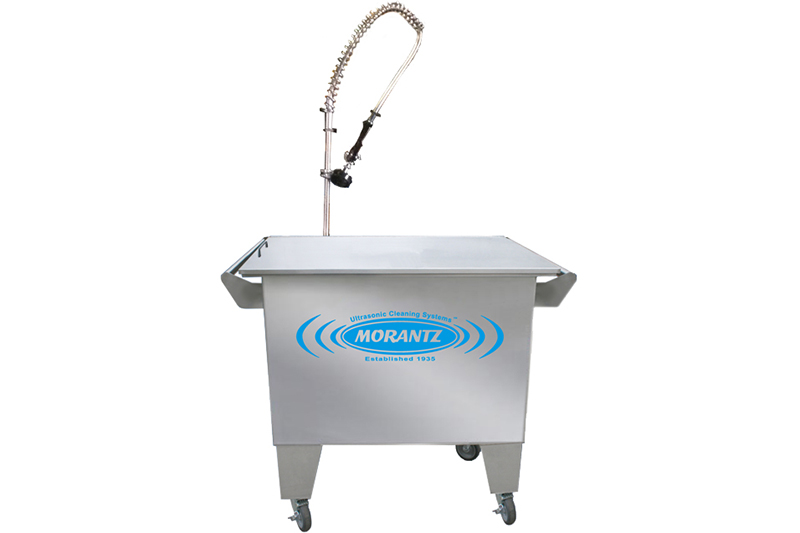 Ideal for giving items a "final rinse" to complete your large and deep cleaning jobs, the Morantz Rinse Station is a must have addition for your Line Cleaning.  Pair this tank with our Deionization System and you now have the ideal rinse for electronics, glassware, optical components, parts and more.
To see related machines or the complete Z-97 Line Super System, click on a link below:
Also available in the following capacities:
Requires a standard 110v circuit (20 amp) circuit to operate.
Based on the Morantz Z-97 (Brother) Heavy Duty, Non-Magnetic, Stainless Steel Tank
Recirculating Pump and Filter System
Stainless Steel Commercial Sprayer Hose and Head
Stainless Steel Lid/Work Table
Stainless Steel Shelf (with Splash Cover)
2 Stainless Steel Welded Handles
Spigot for Easy Draining
Hose Adapter for Easy Fill
4 Heavy-Duty 5" Casters (with 2 Brakes)
Instructional Video and Manual
Free, Unlimited, Hands-on Training at our Facility in Philadelphia
Free Ongoing Support
Window Blind Cleaning
Contents Restoration
Electronics Cleaning
Parts Cleaning
Janitorial & Maintenance
Musical Instrument Cleaning
40" L x 26" W x 24" D
1m L x .6m W x .6m D
48" L x 30" W x 35" H
1.2m L x .76m W x 1m H
97 Gallons
367 Liters
Call 215.969.0266 for Pricing