M-115 Pre-Wash Station
M-115-PW
Improve the Efficiency of Your Super System or Mighty One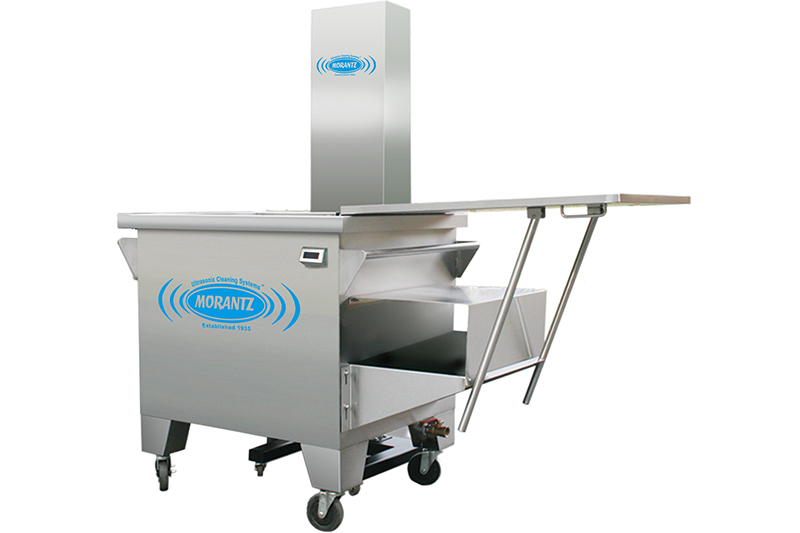 The Morantz Pre-Wash is ideal for applications which require removing a top layer of dirt (or other surface contamination) prior to deep cleaning. Commonly used for Contents and Fire Restoration, Electronics and Parts Cleaning, the M-115-PW uses the same tank and electric lift technology of our standard M-115 (Mighty One). This makes it safe and easy for the operator to raise and lower large, heavy items or multiple baskets of contents into and out of the tank. Additionally, the lids double as a slide deck for your Line System.
Includes Recirculating Pump, Filter, Bubble Bar (Air Compressor not included).
To see related machines or the complete M-115 Restoration Super System, click on a link below:
Also available in the following capacities:
Optional Deionization System Available (ask for details).
Based on the Morantz M-115 (Mighty One) Heavy Duty, Non-Magnetic, Stainless
Steel Tank
Electric Lift with Wheels and Foot Pedal Controls
Thermostatically Controlled Heating System
Stainless Steel Lid/Work Table
Bubble Bar (air compressor not included)
Recirculating Pump and Filter System
Stainless Steel General Purpose Shelf (with Splash Cover)
4 Heavy-Duty 5″ Casters (with 2 brakes)
2 Stainless Steel Welded Handles
Digital Temperature Display Readout
Spigot for Easy Draining
1 Hose Adapter for Easy Fill
Instructional Video and Manual
Free, Unlimited, Hands-on Training at our Facility in Philadelphia
Free Ongoing Support
Contents Restoration
Medical Cleaning and Infection Control
Electronics Cleaning
Parts Cleaning
Janitorial & Maintenance
And Much More
40" L x 29" W x 29" D
1m L x .75m W x .75m D
84" L (with lid open) x 35" W x 72" H (to top of lift)
2.1m (with lid open) x .9m W x 1.8m H (to top of lift)
115
435
Call for Pricing 215.969.0266