Ultrasonic Cleaner's Upgrade Kit
UK-U
For Use with Any Morantz Modular System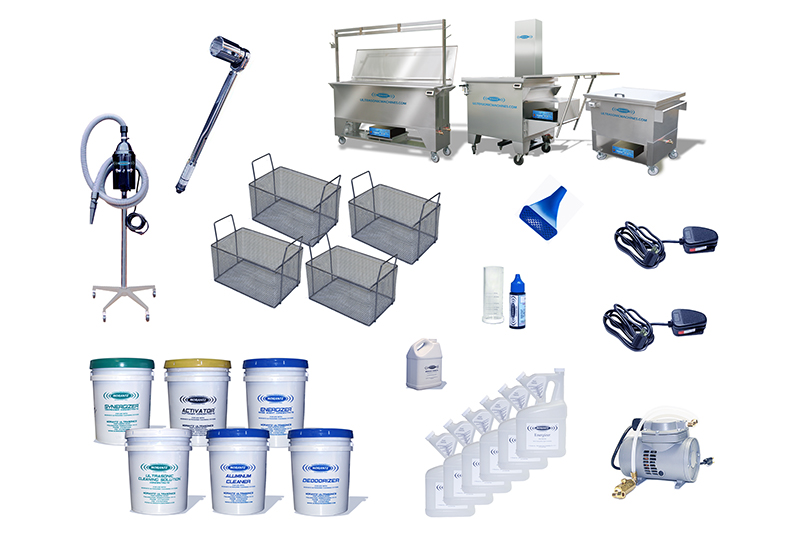 Get the most out of your Morantz Ultrasonic Cleaning System with this Ultrasonic Cleaners Upgrade Kit. This kit includes everything you need to make cleaning with your Morantz Ultrasonic Cleaning System as fast and as effective as possible (recommended for Morantz 2-in-1 machines).
Stainless Steel Lids on All Tanks in the System
Blow Dry Gun with Stand • Stainless Steel Inspection Rack for Blind Cleaner
4 Small Stainless Steel Baskets (15" x 10" x 8")
Immersible Torque Wrench
Air Compressor & Adapters for Blind Cleaner Rinse
2 Easy-Step On/Off Foot Pedals
5 Gallons of Morantz Synergizer (Degreaser)
5 Gallons of Morantz Activator (Water Softener)
5 Gallons of Morantz Energizer (Rinse Agent)
5 Gallons of Morantz Ultrasonic Cleaning Solution
5 Gallons of Morantz Parts/Aluminum Cleaner
5 Gallons of Morantz Citrus Deodorizer
1 Gallon of Morantz Miracle Chemical
6 Morantz Tip and Measure Containers
Hard Water Test Kit
Shade-Bright Nozzle
Note: Items also available separately. Ask your Morantz Representative for pricing.
Call (215) 969-0266 for Pricing