M-115 Super System
M-115-SS
Powerful Contents Cleaning and Parts Washing Line System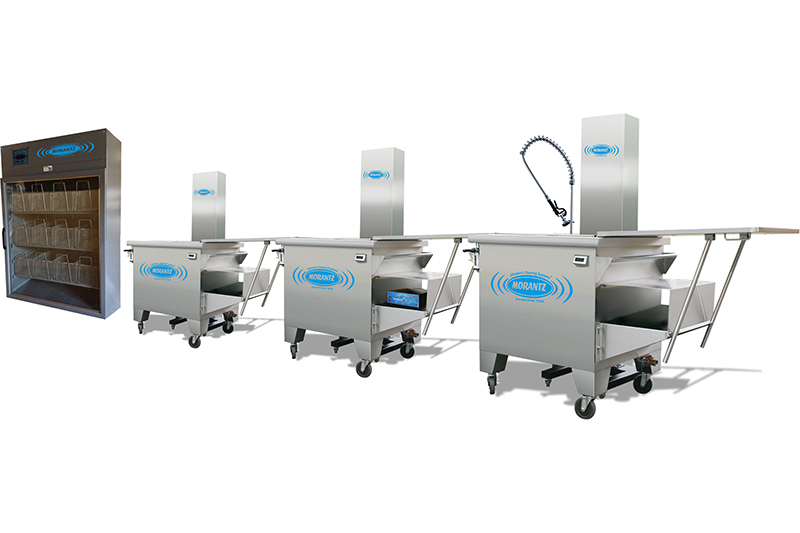 The M-115 Super System is Morantz's most popular contents and parts cleaning model. It includes 3 stations:
Each station is designed to process 8 content baskets at once. Easily handle large, bulky items including electronics and parts of all types. If your concern is having your operators lifting and bending during operation, no worries. All 3 stations boast Electric Lifts that will easily lower and raise your baskets (or anything up to 250lbs.) in and out of the tanks. Slide baskets from one station to the next utilizing the M-115's stainless steel lids/bridges (optional) making the whole process simple.
For Drying: We recommend the Drye Rite Drying & Ozone Cabinet or the Drye Rite XL Drying & Ozone Room.
Utilizes (5) 110v/20amp/1ph circuits (machines for countries that require 220/240v will be built to this specification).
Does not need special plumbing, only a water source.
Also available in 97 gallon (367 liters) and 200 gallon (757 liters) capacities.
To view more photos of the M-115 Super System, our customers and their facilities, check out our Facebook page
3 Heavy Duty, Non-Magnetic, Stainless Steel Tanks
3 Electric Lifts with Wheels and Foot Pedal Controls
1 Prowave™ Ultrasonic Generator (1500 watts/3000 peak watts)
2 Immersible Transducer Packs
2 Thermostatically Controlled Heating Systems
2 Digital Temperature Display Readouts
3 Stainless Steel Shelves with Splash Covers
2 Welded Handles on Each Tank for Portability
3 Large Spigots for Easy Draining
4 Large Casters/Wheels on Each Tank for Portability
Commercial Sprayer on Rinse
Pump and Filter Systems on Pre-Wash and Rinse
Bubbler System on Pre-Wash (air compressor not included)
Instructional Video and Manual
Free, Unlimited, Hands-on Training at our Facility in Philadelphia
Contents Restoration
Medical Cleaning and Infection Control
Electronics Cleaning
Parts Cleaning
And More
Each Tank: 40" L x 29" W x 29" D
Each Tank: 1m L x .75m W x .75m D
Each Tank: 84" L (with lid open) x 35" W x 72" H (to top of lift)
Each Tank: 2.1m L (with lid open) x .9m W x 1.8m H (to top of Lift)
Lined up side-by-side, the three tanks measure 21' (6.4m).
115
435
Call for Pricing 215.969.0266